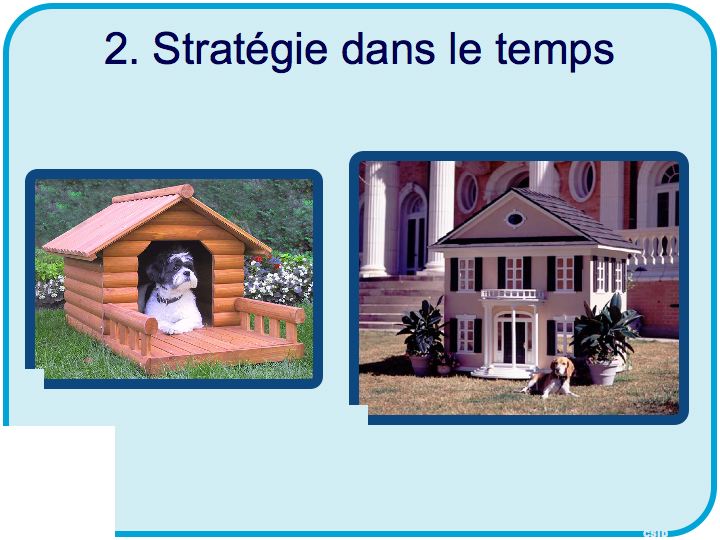 2. Stratégie dans le temps
Chaque projet demande un autre emploi du temps.
Combien de temps vous faut-il pour lancer un nouveau produit ? Pour améliorer ou ajouter une nouvelle fonctionnalité ? Pour corriger un petit problème de production ?
Plus radical est le changement souhaité, plus de temps cela prendra. Et moins de garanties vous aurez pour réussir.
Voici un excellent article sur les différents temps de l'innovation :
http://innovateonpurpose.blogspot.com/2010/12/right-timeframes-for-innovation.html
The Right Timeframes for Innovation
Jeffrey Phillip Raleigh, December 21, 2010

…
Incremental innovation should happen continuously, through factors like Six Sigma, lean and suggestion programs.  Firms should build into their plans the goals to implement four to six incremental ideas each quarter, to establish a demand for ideas and demonstrate capability to implement them.

Innovation should be a key component of an annual plan.  If the annual plan is the blueprint for the coming year, and innovation isn't defined, budgeted and resourced, then it won't happen without an emergency.  Adding innovation to the annual plan demonstrates organizational commitment and intention.

Innovation should be planned for outside of the annual plan, to recognize the timeframes that span multiple budgeting years.  The plans should be at least as long as the idea to commercialization cycle, and in most businesses that would suggest at 3 year innovation planning horizon at a minimum.

Finally, any business that expects to compete and grow in the future needs an active program to understand what will happen in the "distant" future – those dimly viewed years more than three years from today.  Trend spotting and scenario planning can help shape your view of that time, and help the organization understand how to act on a proactive basis to attack emerging opportunities.
Plus d'informations
Article sur comment, quand et pourquoi implémenter de l'open innovation :
http://www.business-strategy-innovation.com/wordpress/2011/02/open-innovation-and-social-media-roadmap/
Open Innovation and Social Media Roadmap
By Stefan Lindegaard, February 18, 2011

… corporate innovation units should not only focus their efforts on the open innovation ecosystem in which open innovation actually happens. They should also focus on the thought leadership aspect, which happens in the innovation community and the interactions that can take place with customers and consumers.

Having this in mind, I suggest that companies should strive to become the preferred partner of choice within their innovation ecosystems. This status can be achieved by facilitating a community that is acknowledged as a key innovation resource by relevant innovation partners in business areas that are important to the company.

SAP COIL, GE Ecomagination, P&G Connect + Develop and Psion's Ingenuity Working are examples that go in the right direction. I will write more about them later.

The status can be build on three elements:

1) a company-controlled platform/website (think a mix of the above examples) that functions of as the hub of the community and shows their innovation needs/assets,
2) thought leadership activities through social media channels and
3) physical events that allow the community members to meet face-to-face.

We need to remember that physical nor virtual activities cannot stand by themselves. They need to be integrated with each other.
Cliquez le lien pour lire le premier billet 1/27 : diaporama et plan de présentation.
Vous pouvez télécharger la présentation sur SlideShare.
Source des images :
chic
http://www.calfinder.com/blog/wp-content/uploads/2008/09/petite-maison-doghouse.jpg
petit
http://www.dimensionsguide.com/wp-content/uploads/2009/10/Dog-House.jpg