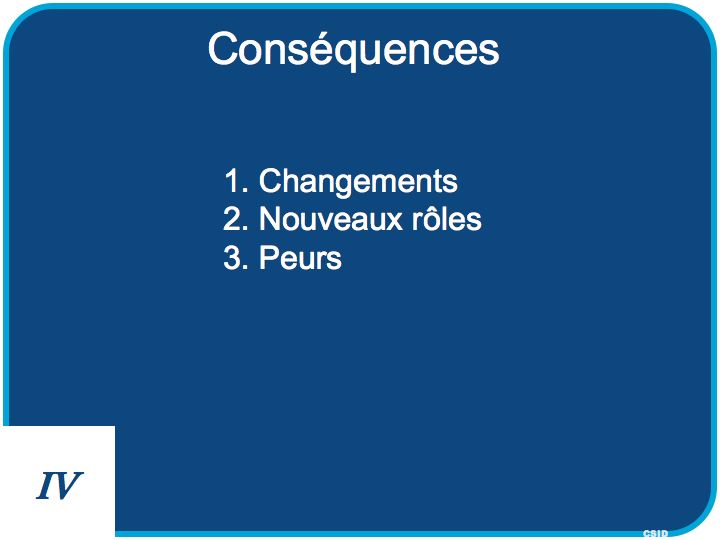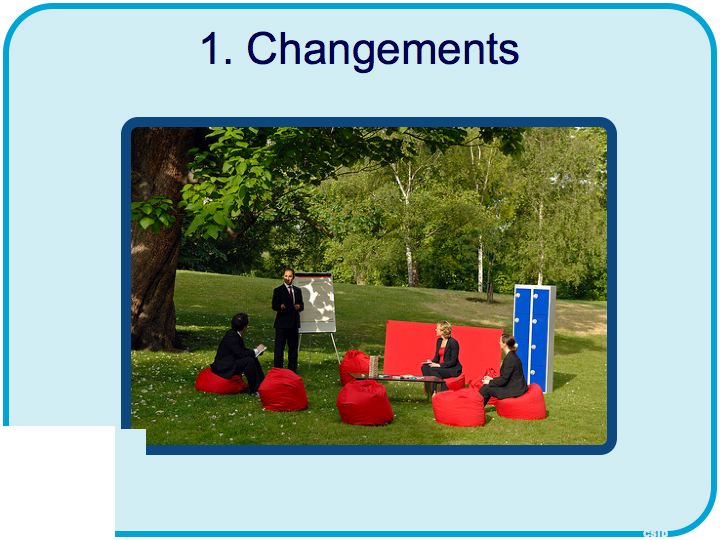 1. Changements
Thomas Lackner, de Siemens le résume parfaitement. Avant c'était : « The lab is our world. ». Aujourd'hui c'est : « The world is our lab. » (Propos tenu au CoDev à Phénix, 26.1.2011).
Les clients, les utilisateurs, les commentateurs sont entrés dans votre entreprise et ils sont devenus un facteur important et actif. D'arriver à accepter ce fait et ensuite, de l'inclure dans notre stratégie, notre quotidien d'entreprise jusqu'au point d'intégrer certains acteurs dans le développement de nos nouveaux produit, cela demande un changement de mentalité.
Il faut composer avec ce monde nouveau ou faire l'autruche. Et ne croyez pas que votre entreprise soit trop petite pour ne pas avoir besoin de s'en préoccuper et de réagir à cette nouvelle donne.
Digression sur comment éviter le changement et donc comment tuer les idées
L'homme connaît un nombre incalculable de techniques d'évitement. Voici quelques exemples de cette forme d'invention humaine non reconnue. En même temps n'oublions pas qu'une entreprise qui ne sait pas fixer des priorités dans ses idées et donc n'arrive pas à renoncer à certaines idées, risque de gaspiller ses ressources et de n'aboutir à aucun résultat valable. Tuer des idées, dans le sens d'être capable de choisir la bonne, est essentiel au succès d'une entreprise comme l'explique Ram Charan dans cet interview : http://www.fastcompany.com/articles/2008/05/interview-ram-charan.html
How To Kill An Idea
Interview made By: Kermit Pattison, May 30, 2008

First, as Thomas Edison said, an idea is called invention. Converting an idea into revenues and profits or something a customer uses is innovation. Today, in the Internet society, you can buy ideas. You can have ideas flow to you from outside your department and outside your company. Innovation is selecting an idea and converting it to the production of a product, service, or new business model that creates growth and profit. The conversion of an idea for most companies, if not all, requires more than one person to make it happen. And that is why it is a social process.

…

Is killing ideas integral to innovation?

Yes, because the success rate of innovation is not going to be 100 percent. If it's 100 percent, you're taking no risks.

What's a good percentage of success?

It depends. We have laid out the social process. In that process, when you select an idea you've got to do prototyping and engage the consumer right away. By doing that, you reduce risk. If you do these kinds of things we related in the book, you have an increasing success ratio. At Proctor & Gamble, the success ratio has gone from 25 percent to 55 percent and the industry average is 15 to 20.
Mais souvent on écarte des idées beaucoup trop vite. Les manières de tuer une idée ressemblent beaucoup aux manières comment nier le fait que les clients et d'autres parties prenantes sont devenus importants.
http://creatingminds.org/articles/killing_ideas.htm
Ways to kill ideas
(pas de nom d'auteur)

1. Ignore it. Say nothing. Pretend that it was not said. Let it die in silence.
2. Criticize it. Say how bad the idea is.
3. Faint praise. Damn it with faint praise. Say how very interesting it is.
4. Laugh at it. Say how funny the idea is.
5. Analyse it. Ask searching questions about it.
6. Tried it. Say how the idea has been tried before and found to be completely ineffectual.
7. Compete with it. Come up with a better idea that shows the idea to be not that good.
8. Change it. Take up the idea enthusiastically and adjust it so that it is no longer recognizable.
9. Shoot the messenger. Instead of attacking the idea, attack the person.
10. Give it to a committee.
Ce site vaut le détour. Vous y trouverez pleins d'infos sur le "design thinking". Voici un diagramme humouristique : Comment éviter l'innovation ?
http://www.mariogagliardi.com/index.php?/archives/66-How-to-avoid-innovation.html
How To Avoid Innovation
By Mario Gagliardi, October 27. 2006
Un download avec 100 manières comment tuer une idée :
http://changethis.com/manifesto/show/32.04.100WaysKillConcept
Un autre download avec 50 manières :
www.bankofideas.com.au/Downloads/50_Ways_TO_Kill_Ideas.pdf
20 phrases pour tuer une idée :
http://www.business-strategy-innovation.com/wordpress/2010/07/20-phrases-that-kill-ideas-and-innovation/
20 Phrases That Kill Ideas and Innovation
by Kamal Hassan, July 2, 2010

1. It's against company policy
2. It's not practical
3. It's not necessary
4. We don't have the resources
5. It will cost too much
6. We've never done it that way
7. Our customers (or vendors) won't like it
8. It needs more study
9. It's not part of your job
10. Let's make a survey first
11. Let's sit on it for a while
12. That's not our problem
13. The boss won't go for it
14. The old timers won't use it
15. It's too hard to administer
16. Why hasn't someone else suggested it before?
17. Let's form a committee
18. We should wait until the economy improves
19. Who else has tried it?
20. Is it best practice?
Heureusement, nous sommes aussi capables d'éviter des blocages :
http://www.business-strategy-innovation.com/wordpress/2010/12/5-ways-to-avoid-creative-blocks-on-your-projects/
5 Ways to Avoid Creative Blocks on Your Projects
By Mike Brown, December 5, 2010

1.    Don't let arbitrary structures stop you from doing what makes sense.
2.    Don't let thinking you can't get everything done stop you from doing something.
3.    Don't let a poorly conceived format stand in the way of you (or others) being able to see the progress you're making.
4.    Don't let a situation spiral into over-complication when stopping and beginning anew would be much simpler.
5.    Don't let overly aggressive expectations preclude you from negotiating for a humbler objective which delivers a disproportionately large impact.
Cliquez le lien pour lire le premier billet 1/27 : diaporama et plan de présentation.
Vous pouvez télécharger la présentation sur SlideShare.
Source de l'image : http://farm4.static.flickr.com/3126/2633692072_5f5dd6901b.jpg