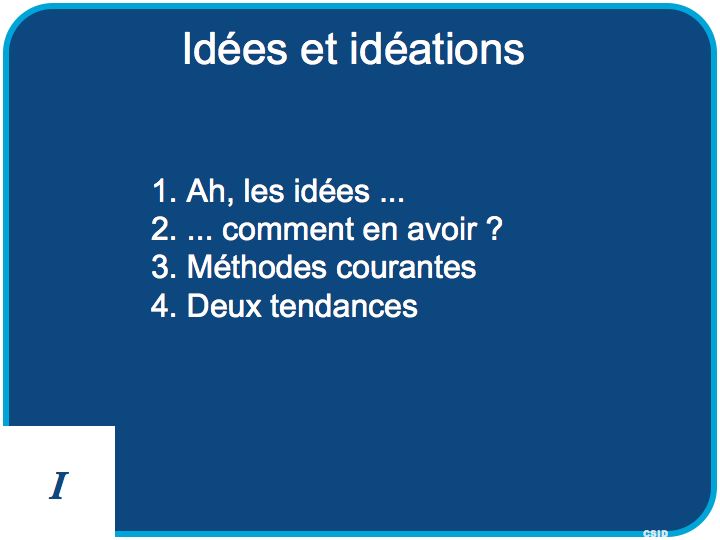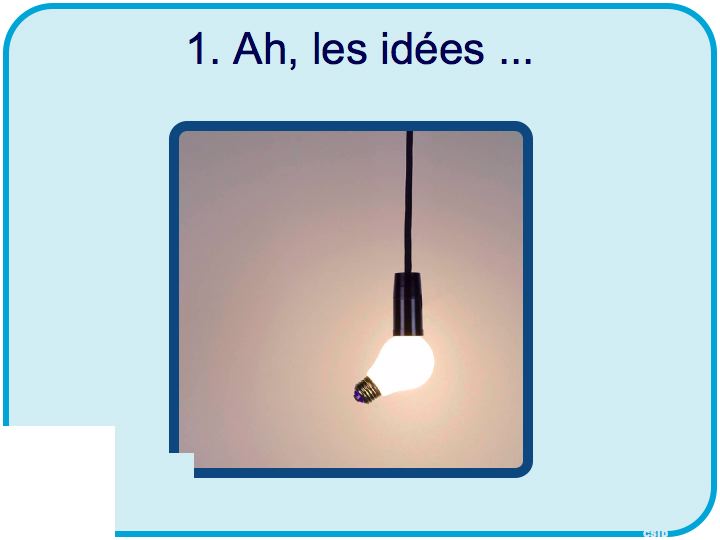 Image : http://shoppingblog.t-online.de/wp-content/uploads/2009/08/gluehbirne-japan.jpg
1. Ah, les idées..
Quand on parle d'idées tout le monde pense « innovation ». C'est qui est une vision réductrice. L'innovation ne concerne qu'une petite partie des idées. Tous les problèmes ne demandent pas de l'innovation.
Quelques préjugés contradictoires et autres vérités désagréables :
Ce n'est pas les idées qui manquent, mais le temps et l'argent.
Avoir des idées, c'est simple ; les implémenter, c'est difficile.
Les idées ne servent pas à grand chose.
Les idées, ce n'est que du vent.
Les idées ne coûtent rien.
Mais une idée peut coûter cher : parce que l'entreprise n'en a pas, parce qu'elle a choisi la mauvaise idée. Et parfois on se fait aussi renvoyer parce qu'on a des idées qui dérangent.
De toute façon tout va bien et donc on n'a pas besoin d'idées.
Et quand tout va mal, on n'a ni le temps ni les moyens pour en chercher.
Et puis c'est un truc de mode : « idée », c'est un mot comme « innovation », dont tout le monde en parle, mais personne ne le fait.
Le monde des idées cela fait « intellectuel » et nous, nous sommes des entrepreneurs, nous agissons sur le réel.
De toute façon, avoir une idée lors d'un brainstorming, cela va me causer plus de travail, n'est-ce pas ?
Je n'ai pas d'idée, car je ne suis pas créatif. C'est le travail des autres.
Voici quelques articles qui disent tous la même chose : ce qui compte est l'implémentation. C'est vrai. Et pourtant, sans idée, il n'y a pas d'implémentation.
Les idées ne sont rien : http://iphoneincubator.com/blog/business/ideas-are-nothing-execution-is-everything
By Nick, October 2010

Jobs and Apple represent the polar opposite: they are masters of execution. Many of the most successful Apple products were not original ideas hatched at Apple: GUI, MP3 player, laptop computer, smartphone, app store. But the key differentiator is that Apple executed on these ideas better than anyone else.
Les idées ne coûtent rien : http://andrewhargadon.typepad.com/my_weblog/2008/05/ideas-are-cheap.html
By Andrew Hargadon on the book In the Air: Who says big ideas are rare? of Malcolm Gladwell, May 26, 2008

Ford had it right when he argued against his own ideas:
I invented nothing new. I simply assembled into a car the discoveries of other men behind whom were centuries of work. . . .  Had I worked fifty or ten or even five years before, I would have failed. So it is with every new thing. Progress happens when all the factors that make for it are ready, and then it is inevitable. To teach that a comparatively few men are responsible for the greatest forward steps of mankind is the worst sort of nonsense.
Tout le monde a des idées : http://www.designsojourn.com/everyone-has-ideas-how-you-execute-them-is-what-matters/
By Designsojourn, February 25, 2008

I am surprised how many people (designers and non-designers alike) are so afraid to share their ideas. The point here is that ideas are dime a dozen, and like T-shirts, most of the people in world have them. What you do with them is the key.

The rest is all talk and talk is cheap.
Les idées peuvent être dangereuse et on crée un festival en 2009 : http://www.sydneyoperahouse.com/about/program/festival_of_dangerous_ideas.aspx
Un blog : http://bigthink.com/blogs/dangerous-ideas
Le livre de John Brockman « What Is Your Dangerous Idea?: Today's Leading Thinkers on the Unthinkable »

Cliquez le lien pour lire le premier billet 1/27 : diaporama et plan de présentation.
Vous pouvez télécharger la présentation sur SlideShare.